Read review posted by chris berns on May 5, 2017, 12:51 p.m. for Dr. Lorenia Vaughn - Dentist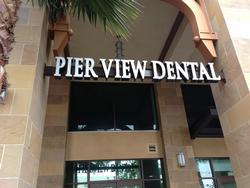 Dr. Lorenia Vaughn DDS Pier View Dental - Dentist
5.0 based on 14 reviews
out of
5
stars
760-730-5955 View Phone
301 Mission Avenue, # 104
Oceanside, CA 92054
Like
Dislike
Review
by
chris berns
on Stars: 5.0
2017-05-05
Link
Wonderful dental experience with Dr Vaughn and the entire staff. Dr Vaughn is experienced, personable, and gives you all the time you need to answer questions and take care of all issues that might arise. She is strong on preventative care which my wife and I both appreciate. I highly recommend this dental practice, and its in a great location with free easy parking. I received a referral from another patient who really liked this office and Dr Vaughn, so my wife and i decided to try them and we are glad we did.
About Front Desk: The front desk staff is always kind and warm and makes you feel right at home in the comfortable waiting room. She is very informative and i like that they usually play a movie instead of the news, it makes the atmosphere comfortable and relaxed.
Front desk:
Hygiene rating:
About Hygienist: very thorough cleaning and also a gentle hand. very good. Uses the sealant which i like. A very good and relaxing experience.
My Experience:
Duration: 30 minutes
I know this doctor: 3 years
Agree
0
Disagree
1
Agree
0
Disagree
1