Read review posted by becca on Sept. 30, 2014, 8:12 p.m. for Dr. Lorenia Vaughn - Dentist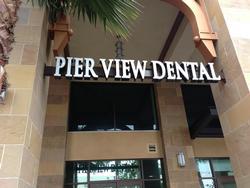 Dr. Lorenia Vaughn DDS Pier View Dental - Dentist
5.0 based on 14 reviews
out of
5
stars
760-730-5955 View Phone
301 Mission Avenue, # 104
Oceanside, CA 92054
Like
Dislike
Review
by
becca
on Stars: 5.0
2014-09-30
Link
I had 3 visits with Dr. Vaughn. The first was for the xrays and cleaning and the last two were for my cavity fillings. I have to say I was very pleased with every visit. Dr. Vaughn was very thorough and knowledgeable about what was happening in my mouth. She has gentle hands and it definitely helped that she smelled lovely too with her soft perfume. Dr. Vaughn made sure I was very comfortable. She put on a movie for me to watch, changed my safety glasses 3 times until one fit me properly, and administered a little extra numbing agent to my one side to make sure I didn't feel anything. Dr. Vaughn is very soft spoken and was definitely approachable with any questions I had and answered in detail. I would most definitely recommend her to anyone who needs dental work. My children ages 3, 4, and 12 also had multiple appointments with her. My 12 year old and 3 year old were great and cant wait to return. in fact, my 3 yr old has bugged me everyday since we went. My 4 year old, however, was terrified of the idea. She cried and I had to hold her, but the Dr. was more than accommodating and patient. She new all the right things to say. It was a true test to see how they react with scared kids and they passed with flying colors.
About Front Desk: Front desk was very accommodating and helpful with my schedule. They are also very friendly and full of smiles when you walk through the door. I had an issue with my insurance and the lady at the front desk was so helpful and walked me thru everything I needed to do to fix the issue and also took time to call multiple places herself. just really professional and caring. couldn't be happier.
Front desk:
Hygiene rating:
About Hygienist: The time frame was perfect for me. It wasn't an all day process, yet was long enough that I knew things were not done half fast. My mouth felt very clean and I wasn't sore from heavy hands. I was extremely happy with my results!!
Hygiene time: 20
I know this doctor: 1month
Agree
0
Disagree
1
Agree
0
Disagree
1