Read review posted by on Aug. 18, 2014, 11:41 a.m. for Dr. Howard Ngo - Dentist Dentist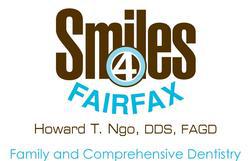 Dr. Howard Ngo DDS, FAGD - Dentist
5.0 based on 59 reviews
out of
5
stars
703-865-6677 View Phone
11351 Random Hills Road Suite 290
Fairfax, VA 22030
Like
Dislike
Review
by
Smiling Patient
on Stars: 5.0
Aug. 18, 2014, 11:41 a.m.
Link
Dr. Ngo is truly a great dentist! His bedside manner is professional, kind and knows his stuff. I trust him to do what is best for me, not just to the bottom line. He truly cares. My two young kids go to him as well and he is equally gentle and patient. My kids don't have the anxiety I did as a kid going to the dentist and that speaks to Dr. Ngo and his staff. I have had and still need lots of dental care…root canals, bridges, TMJ…you name it. I also like how Dr. Ngo and a local orthodontist work together to follow a care plan. Dr. Ngo took the time to speak with my orthodontist after hours in order to make sure that my best interests were met. You will not regret going to him. The only rating lower than a 4 is cost-but that is not Dr. Ngo's fault. His prices are like all dental care. Insurance doesn't cover what it needs to. Just the way it is. So I would rather go to someone I trust and who does GREAT dental work!
About Front Desk: Love the front desk. Friendly, upfront on costs, understanding when you have to change appointments….you feel welcome when you walk into the office and it helps relieve anxiety levels. Have to mention that I love their facilities. Clean bathrooms, serene pictures, T.V. to watch to keep your mind off of the drills. They do all they can to make you feel comfortable.
Front desk:
Hygiene rating:
Hygiene time: 30
I know this doctor: 5 years
Agree
1
Disagree
0
Agree
1
Disagree
0