Read review posted by Henry on June 13, 2014, 9:15 a.m. for Dr. Howard Ngo - Dentist Dentist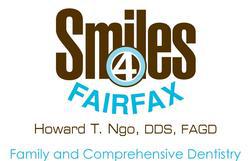 Dr. Howard Ngo DDS, FAGD - Dentist
5.0 based on 59 reviews
out of
5
stars
703-865-6677 View Phone
11351 Random Hills Road Suite 290
Fairfax, VA 22030
Like
Dislike
Review
by
Henry
on Stars: 5.0
June 13, 2014, 9:15 a.m.
Link
This review is long overdue! I've had issues with my teeth my whole life, and when I met Dr. Ngo, he developed a long-term plan and permanent solution for my teeth. We sat in his office and he went over step by step the plan he had envisioned. He showed me pictures and x-rays of my teeth so I could see exactly what he wanted to do and why it was necessary to prevent future problems. Not once did I feel pressured to follow his plan. He is mindful of the costs of dental work and provided various options to cut costs. 3 years later, we have executed his plan and I could not be happier with the way my teeth look and feel. During this whole process, what I've learned about Dr. Ngo is that he is extremely detailed oriented and definitely a perfectionist. He will not use anything that isn't the perfect shade or size for your teeth and he will send things back to the lab until it's perfect. Here is the work that Dr. Ngo has done for me: cleaning, pulled teeth, root canal, fillings, crowns, veneers, bridge, retainer, and sports mouth guard (yes, I've had a lot of work done). Dr. Ngo is an amazing dentist, I trust his opinion, I trust his quality of work, I trust his staff and I trust that he is looking out for my best interest.
About Front Desk: Very friendly, helps with insurance, and great at reminding you about your appointment. Definitely approachable.
Front desk:
Hygiene rating:
Hygiene time: 15
I know this doctor: About 3 Years
Agree
1
Disagree
0
Agree
1
Disagree
0