Read review posted by leejay on June 10, 2013, 8:35 p.m. for Dr. Howard Ngo - Dentist Dentist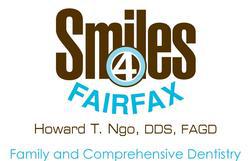 Dr. Howard Ngo DDS, FAGD - Dentist
5.0 based on 59 reviews
out of
5
stars
703-865-6677 View Phone
11351 Random Hills Road Suite 290
Fairfax, VA 22030
Like
Dislike
Review
by
leejay
on Stars: 5.0
June 10, 2013, 8:35 p.m.
Link
Had 3 wisdom teeth rmoved plus a deep clean. In short, if you want a non-judgmental, gentle, understanding, patient, dentist who takes a real interest in your dental issues and is also family friendly, you should see Dr Ngo. Staff are friendly and helpful, facilities are clean, technology is fascinating, and paperwork is easy to read and understand.
About Front Desk: Mia is absitively friggin awesome!
Front desk:
About Hygienist: N/A
Agree
1
Disagree
0
Agree
1
Disagree
0