Read review posted by Smiling Patient on June 3, 2013, 2:34 p.m. for Dr. Howard Ngo - Dentist Dentist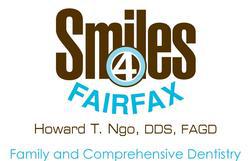 Dr. Howard Ngo DDS, FAGD - Dentist
5.0 based on 59 reviews
out of
5
stars
703-865-6677 View Phone
11351 Random Hills Road Suite 290
Fairfax, VA 22030
Like
Dislike
Review
by
Smiling Patient
on Stars: 5.0
June 3, 2013, 2:34 p.m.
Link
I had a tooth that had to be removed - and I chose to go with an implant to avoid having a denture type device. The process is not cheap, but well worth the money considering a lifetime of hassle-free maintenance. Dr. Ngo does an outstanding job of pain management, unlike some dentists I've had that can't seem to get me numb, never had that problem with Dr. Ngo. Very solid and I've already recommended him to others in my office.
About Front Desk: Very helpful, always calls with a reminder which I appreciate. It's just a professionally run office - they treat you like a patient, not an inconvenience...
Hygiene time: 35
I know this doctor: 2 years
Agree
1
Disagree
0
Agree
1
Disagree
0